Mervue Laboratories – Pet Division announced the launch of their re-branded Gastrointestinal Health category which includes Probio, Diagel and VetiCoal, a 360 Degree Management System for digestive disorders in cats & dogs. The new packaging is designed to clearly communicate the benefits of the products which utilise the very best nature has to offer and verified by science. Mervue Laboratories' Gastrointestinal Health range has been formulated by veterinarians and experienced nutritionists to target digestive disorders amongst pets.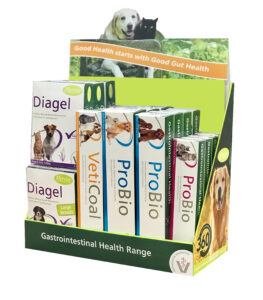 Mervue Laboratories launched the Gastrointestinal Health range at Interzoo, the world's leading trade fair for the pet industry, in Nurnberg Germany May 2022. The reaction from both existing and new customers on the revelation of their complete makeover of new Mervue Pet Division has been exciting and very positive.
Mervue's mission is to formulate products which inspire pet parents to care for their pet's health, enabling them to live happy healthy lives, reaching their full potential. Mervue envisage a world where healthy pets can co-exist with a greener planet, utilizing the very best nature has to offer.
For more information on the Mervue Pet range, please contact Roberta Gannon Head of Sales on rgannon@mervuelab.com.